The Queen smiles as the President of Azerbaijan presents her with a rare horse as a gift at Windsor Castle!
I bet the Queen was deeply honored, what a great gesture.💖🐎🥰
What a lovely gift for her. Will cheer her up! 🥰
The monarch, 96, was presented with a rare Karabakh horse in Windsor Castle's courtyard a day before surprising royal watchers with a visit to Paddington Station to inaugurate the Elizabeth Line. The horse was a gift from President Ilham Aliyev after his country was invited to perform at the recent Platinum Jubilee celebrations.
The Karabakh horse is an Azerbaijani native that is used for endurance events and races. The Karabakh horse is culturally significant to the people of Azerbaijan.
The breed is prized for its temperament and speed; in 2004, a Karabakh horse named Kishmish from Azerbaijan's Agdam camp ran 1,000 meters in 1 minute, 9 seconds, and 1,600 meters in 1 minute, 52 seconds.
This breed's population is currently under 1,000, and it is on the verge of ext.inc.tion.
The Queen, who has a lifelong passion for horses, described the gesture as "Very Kind And Very Generous."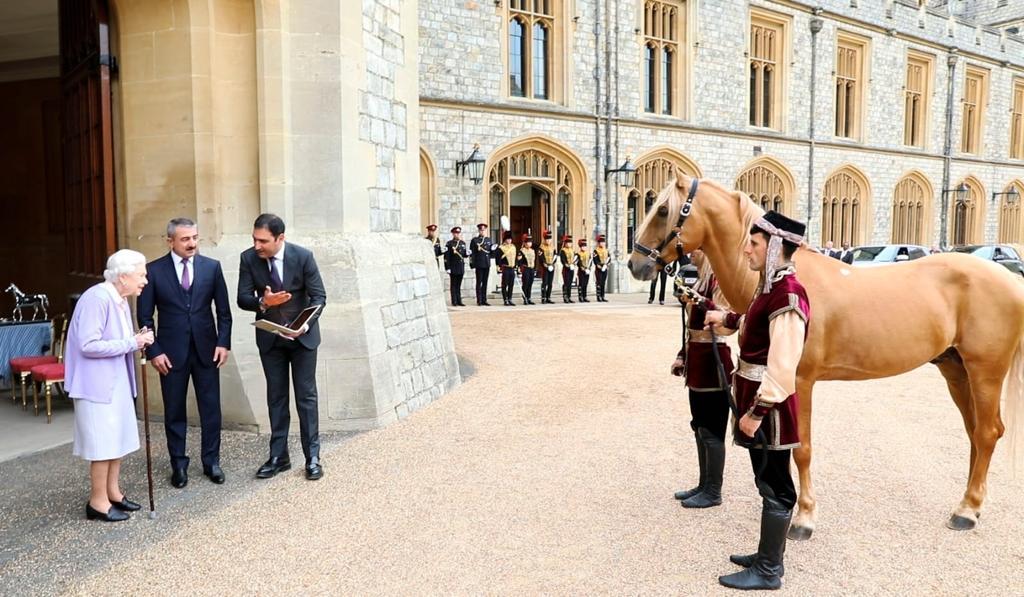 Just the perfect gesture for a lovely Queen!!
Horses and riders took to the arena to entertain the crowd, with Azerbaijani performers among the 1,300 who took part.
The horse show staged the Platinum Jubilee celebration event 'A Gallop Through Time' on the final day of the event, which featured Azerbaijan performers.
What a wonderful gift for Her Majesty!
The lavish event, which was broadcast nationwide, featured a slew of famous faces, including Tom Cruise and Helen Mirren, and provided guests with a variety of musical and acting performances.
What an appropriate and thoughtful gift for the Queen. As a rare breed, We're sure this horse will get excellent care. Her Majesty certainly looked pleased with this special gift!
An awesome horse for an amazing Queen.❤️
Wonderful and HerMajesty's pleasure is in her smile.
Please SHARE this with your friends and family!