Woman Channels Grief Of Losing Her Golden Retriever Into Touching Obituary
Charlie the Golden Retriever will always be remembered for being a very good boy. Charlie's mom, Sallie Gregory-Hammett brought Charlie into her life when she was 23 years old, single, and had just moved to a new city. He was her first dog and the two became an inseparable duo.
"I know it's cliché but he was my best friend," Gregory-Hammett told HuffPost. "He went with me everywhere —work, hiking, trips to Home Depot. He was just a constant source of comfort and companionship and joy. Everyone that knew me knew Charlie and knew how much I loved him."
The dog mom joked that whenever she began dating someone new, people would ask her if Charlie liked the person. She always admitted that Charlie loved everyone. Gregory-Hammett married a man named David in a tiny backyard ceremony recently, and Charlie was a part of everything, including the photos.
Sadly, after a five-month battle with lymphoma, Charlie passed away recently. In an effort to channel her grief, Charlie's mom wrote an obituary for her beloved dog. The Greenville, South Carolina woman poured her heart out and wrote, "He relaxed in the Charlie-sized holes he dug himself, and dove straight into the oncoming waves. His last days were so happy and will be cherished forever. We will think of him every time we open the peanut butter."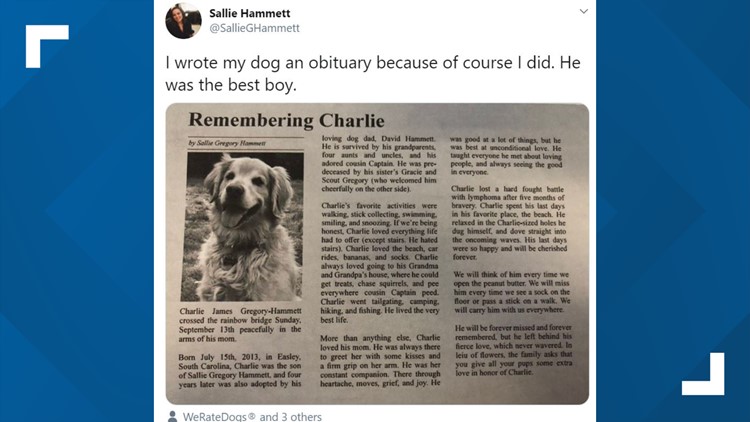 Instead of paying to publish the obituary in her local newspaper, she decided to share her heartfelt words on social media, and dog lovers rejoiced in her kind and tender words. At the end of the piece she wrote, "In [lieu] of flowers, the family asks that you give all your pups some extra love in honor of Charlie."
We send our condolences to all those who loved Charlie. May his presence forever be remembered.